The HooToo Tripmate HT-TM01 Review: A 3 in 1 Router, Media Share and Travel Router and Why You Should Get One.
Here is my review of the HooToo Tripmate HT-TM01 a 3 in one travel router, media share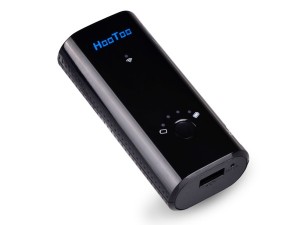 and backup battery. I use this device whenever I travel and even more at home. In this review, I show you how it saves me hundreds of dollars on hotel wireless fees and hotel movies. I'm not just unboxing the product, I use it everyday so I put it through its paces.
I first heard about the HooToo Tripmate while on vacation. Like many other people I was having trouble connecting my ROKU device to my hotel TV and wireless. After searching online, I figured out I needed to get a HooToo travel router.
I ordered it from Amazon and got to use it on my next trip. It worked really well and I can tell you there is so much that the device does.
Opening the Box
The box contents are:
USB power cord

A small foldout manual

HooToo Travelmate
HooToo device
Out of the box the HooToo Tripmate is small enough to fit in your hand. It weighs about 4 ounces and comes in black. It has one button near the bottom that you press to turn on and off the device.
Ethernet port – This lets you convert a ethernet port to a wireless router point.
USB Charger port – Handy USB port to recharge your mobile devices and connect your USB storage devices.
Micro USB Power Connector – Located on the right side. This connector is used to charge up the HooToo Tripmate battery while at the same time powering the router.
Factory Reset – if you ever make a mistake on your settings this button resets back to factory original settings. A ball point pen or paper clip point usually works.
Why Do You Need A HooToo?
The HooToo Tripmate TM01 was a great addition to my travel bag and here's why. It is three devices in one:
How many times have you run out of charge from your tablet or phone? The Tripmate TM01 has a 6000mAh battery for those times you need a quick charge. I have used this a couple of times for my phone. I bring it with me in my car to charge my phone when I'm down to 10% on my charge.
If you have an iphone 6 it holds 1800 mAh so you can charge your phone 3 times before recharging your TripMate. The Samsung Galaxy S5 and S6 holds 2550-2,800 mAh so you can charge 2 times.
How I Use The HOOTOO Tripmate HT-TM01 as a Travel Router
I use the device as a Travel Router in bridge mode. What exactly is that anyway? Just like a bridge in real life the HooToo can act as a bridge from your hotel internet connection and share access with 5 devices securly. This is where the HooToo Tripmate will pay for itself many times over.
Here's why. Hotels and airports can charge $20 or more for each digital device per day. That could run you $60/day just to use your other devices. But if you use your HooToo Tripmate you can share your hotel or airport connection with up to 5 devices but only pay for one connection charge. This has saved me hundreds of dollars just on WIFI charges alone.
Using The HooToo Tripmate HT-TM01 With my ROKU and Chromecast
This is perhaps the best use of my HooToo Tripmate. When I travel with my family, I like bringing my ROKU or Chromecast along so we can travel with our favorite Netflix shows. This easily saves  $15-$20 per movie most  hotels charge you.
With the HooToo, you can login in the hotel network using your laptop, phone or tablet. Once connected, you can share this connection with your ROKU and Chromecast. The reason you need to use the HooToo Tripmate is because the ROKU and Chromecast don't have browsers to log into your hotel wireless network.
Using HooToo as a Personal Cloud
One of the best features of the HooToo Tripmate is its ability to share USB drives or pocket HD drives wirelessly. So why would you want to do this? Let's say you've got a 4 hour drive with the kids and you want the kids to be able to watch from a collection of movies without blowing up your data plan or exceeding memory in your devices. 
All you have to do is store the movies on a USB drive and plug that drive into the USB port of the HOOTOO. The drive contents will be available for streaming. To access the drive contents from your tablet or smartphone just download the HooToo app from Google Play or The Apple App store.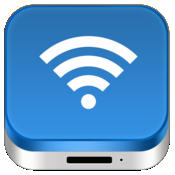 Google Play HooToo Tripmate App
You can also access these drives from you laptop as well. It treats them as SMB drives that you log on using the admin credentials of  your Tripmate.
[photo of smb]
Using HooToo Tripmate as a secure Router
If you happen to stay in a hotel that still has a hardwired ethernet connection you can share it on WIFI with other devices. I have used this mode before at an old Marriott property that had a weak WIFI signal but a stable ethernet port in the room.
Configuring HooToo TripMate Out Of The Box
I configured the HooToo TripMate out of the box. Here are the steps I took and found them pretty easy to configure and get it up and running.
Powering Up Your HooToo
To power up the HooToo TripMate, press the solid black button at the bottom of the device and hold for about 5 seconds. It should show an animation of blue lights which indicate how much the device is charged. The number of solid lights indicate how charged the device is.
There should be a small green light at the top of the device that should blink for a second and then stay solid blue when  your HooToo TripMate is ready.
You should now be able to access your device. To do this all you need use your laptop or tablet to login to configure the device.
I viewed the list of wireless devices and connected to the device that look like TripMate-xxxx.  I selected it and it prompted me for a password.
I typed the default password 8 ones:  11111111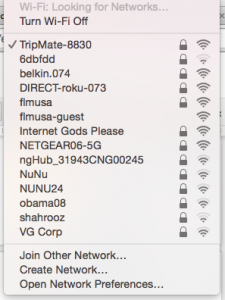 I then fired up the browser the dashboard of the HooToo pops up the configuration screen below.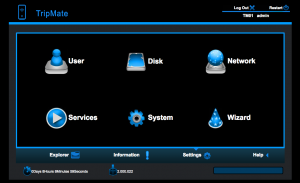 The next step I logged in (no password required please change this later).  I then selected Network and then Internet and it began to scan looking for wireless networks to connect to. Pick out your home network SSID from the list and then configure your password for your wireless network. Then I hit save and I was connected to the internet. To test this just go to a known website and it should be connected.
I have just finished configuring the HooToo Tripmate in bridge mode.
Configuring Media Sharing
The TripMate Travel Router can share a USB drive. I tested this by plugging in a 1.5 Terabyte drive through the USB port (It was powered by another power supply).
I opened the dashboard of the HooToo again. To enable media sharing all you have to do is go to the "Services" and then Samba Service. Simply  turn on the SMB service and the USB drive should be available from your tablet or phone.
All you need to do is search for Tripmate in the App Store if you have an iPhone or search Google Play if you have a Android device.
Once I downloaded the app I was able to display all the contents of the attached drives.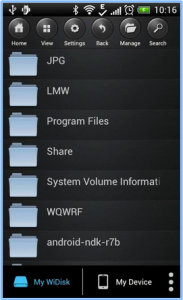 Overall Review Summary
Pros:
I have tested the HooToo TripMate device in all of its modes and I must say this device should be a must have for any traveler. The bridge router feature will save you money with internet access fees by  sharing up to 5 internet devices while only paying for one. You'll save money on in room entertainment by connecting your ROKU or Chromecast devices.
Its wireless storage features and give you access to up to 2 terabytes of storage for your tablets and phones. At a price of $29 on Amazon its a no brainer. I highly recommend this device. 
Cons:
The instructions to upgrade the firmware were a little confusing given that most new updates come in RAR format and the examples given on their page are in .zip format. The writing is a little small on the fold out but you can access a larger version online.
My Overall Rating 5 stars
Documentation: 4.5
Ease of Use: 5
Price: 5
Purchase This Device on Amazon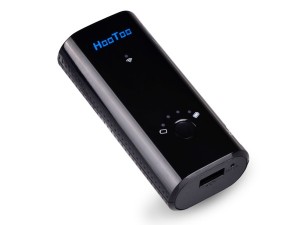 To by a HooToo Tripmate get it from Amazon for the best price. Starting August 23rd you can type in the code "TRIPMATE" and get 20% from Amazon.