For two years now I've been experimenting with how to make a little passive income with Clickbank. My goals were to make about $150-$200 per month in my spare time. It would provide a little money to put away for my son's college fund and for my Starbucks habit. So off I started with my first site.
My 1st Clickbank Site
I started out with one site built around a product that I really liked called the The 5  Minute Learning Machine. I actually bought the ebook product off of Clickbank for $24 and read it.
But since I'm not the best writer I had a friend write a 1 page (400 word) review on it. She ranked it for readability, what type of bonuses it had and most of all would it be helpful for the reader. By really helping the reader make a buy or pass decision was important.
I next chose a domain name. The one thing I learned was to choose a domain that has the name of the product followed by the word review. This was chosen because this is what people type in to google when they see something they want but they're are not sure if it's any good. So they type into Google name of the product followed by the word "review".
So if you can reserve this name you get a leg up on the competition.
Visual Appearance
I then took a snapshot of the table of contents of the product manual. This allowed people to take a look at what they would be getting when they buy. I also used a star rating system and included a product snapshot of book cover. Also I included screen snapshots of the bonus products included in the package.
I then put the site up using WordPress and I put in the review as the first page with a few other articles on learning build with some of the other pages. Once everything was up and running I turned on the site. After 6 months this is what the site was earning.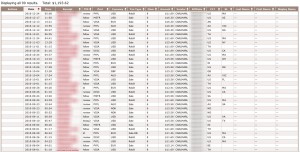 As you can imagined I was quite impressed with this. But there was room for improvement which I'm going to share with you in my next post.